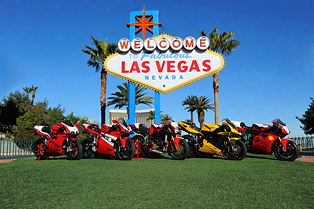 Welcome to Ducati Owners Group Sin City
We have a newly established Executive Board of Directors:
PRESIDENT - MARK BOEDDEKER
VICE PRESIDENT - JOE SMALL
SECRETARY - KELLEY SPIELBERG
TREASURER - RON RADCLIFFE
EVENTS DIRECTOR - DAVID DEVANEY
We are having a club ride Saturday, April 4th, 2015. We will finalize the details and Members will receive a flyer via e-mail.
We have a lot of great things happening, a MotoGP viewing party is in the works, and several great rides in and out of Las Vegas.
Go to Calendar page or Forum on this website to see our upcoming events, or follow us on Facebook #ducatiownersgroupsincity
A SPECIAL THANKS TO VINCENT CHU, FOR YEARS OF HIS SUPPORT AND LEADERSHIP FOR THE CLUB.
VINCE IS A FAMILY MAN, A MOTORCYCLE RACER, TOP DUCATI/MOTORCYCLE MECHANICAL ENGINEER, MOTORCYCLE ENGINE BUILDER, AND EXECUTIVE CHEF, AMONG OTHER THINGS, VINCE IS AN AWESOME HUMAN BEING!!! THANK YOU VINCE FROM THE DUCATIDOGS!
---